Relyum has released a new TSN switch called RELY-TSN-BRIDGE+, and it is the evolution of the RELY-TSN-BRIDGE, Relyum's first TSN Switch. This new platform incorporates many hardware improvements such as a better processor or FPGA. It supports a configuration with 8x 1Gbps copper TSN ports + 4x 1G/10Gbps fiber optic SFP+ TSN ports + 1x 1Gbps service port, providing the greatest flexibility to the end-user.
Supported TSN standards in the TSN Switch
Turning to the details, this new switch includes a more powerful UltraScale MPSoC, being able to support the following TSN standards:
IEEE802.1AS 2020: Time synchronization. Supporting two PTP domains
IEEE 802.1Qbv: Time-Aware Scheduler
IEEE 802.1Qav: Credit Based Shaper
IEEE 802.1CB: Frame Replication and Elimination
IEEE 802.1Qci: Per Stream Filtering and Policiing
IEEE 802.1Qbu & IEEE 802.3br: Frame Preemtion
IEEE 802.1Qcc, among others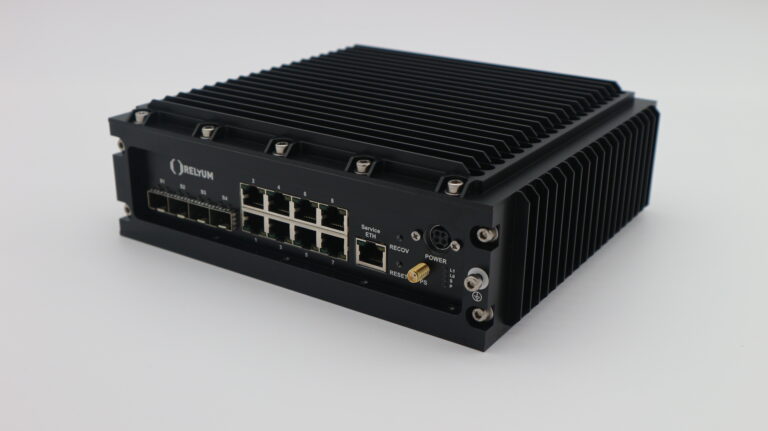 When it comes to security, the device supports IEEE 802.1X. This standard is an IEEE Standard for port-based Network Access Control. It is used for access control, DoS attack prevention, and port mirroring for diagnosis.
It can be centrally configured from RELYUM's TSN Configurator, a new TSN configuration tool to be released together with the new HW platform, or from any other third-party configuration system that is compliant with IEEE 802.1Qcc standard and implements YANG modeled configuration files over Netconf communication.
Ruggedized design
The RELY-TSN-BRIDGE+ has a robust and ruggedized design, that includes extended range components and thermal & dissipation artifacts, to guarantee that it can be installed in the most demanding environments.
Source: https://www.relyum.com/web/2022/03/30/new-12-port-tsn-switch-rely-tsn-bridge/