The most comprehensive Testbed for TSN
RELYUM offers a Complete, Flexible and Powerful solution for testing and validating Time-Sensitive Networking technology in sector like Industrial Automation, Automotive, Railway, Aerospace and Defence among others.
Complete TSN validation
RELYUM has developed one of the most complete TSN technology In the market, with support for a large number of standards:
IEEE 802.1AS : Timing and Synchronization
IEEE 802.1Qbv: Enhancements for Scheduled Traffic
IEEE 802.1Qav: Forwarding and Queuing Enhancements for Time-Sensitive Streams
IEEE 802.1Qcc: Enhancements for Stream Reservation Protocol
IEEE 802.1Qbu: Frame Preemption
IEEE 802.1CB: Frame Replication and Elimination for Reliability
IEEE 802.1w: Rapid Spanning Tree Protocol
IEEE 802.1AB: Link Layer Discovery Protocol
IEEE 8802.1Qci: Per-Stream Filtering and Policing – available in Q1 2022
Flexible traffic characterization
RELYUM allows to characterize all the traffic types identified in critical sectors: Scheduled / Real-time traffic (Cyclic or Isochronous for control operation), Reserved traffic (Audio/video with user-experience requirements), Best effort traffic or congestion traffic.
With RELYUM's endpoint NIC, application data received through the PCIe interface are processed for its injection into a TSN network. As a result, a COTS or legacy computer can perform as a TSN device.

Moreover, this device can be supplied with an embedded tool for generating the traffic transmitted to the network based on predefined parameters: Ethertype, VLAN ID, PCP, number of packets, frame length, time interval, etc.
When PCIe slot is not available in the endpoint device, VLAN ID and PCP can be directly assigned in the TSN switch as a way to identify the traffic in the network.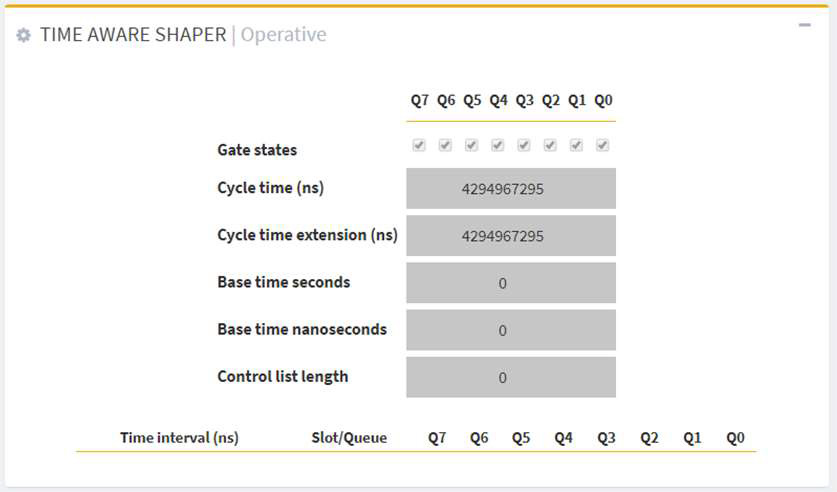 Powerful setup configuration
Relyum devices support multiple configuration mechanisms, which simplify the management of the setup:
IEEE 802.1Qcc support with Netconf protocol, based on YANG modeled data exchange; compatible with commercial CNCs.
CLI access/configuration through SSH.
Web-based HTML5-GUI access/configuration, accessible through HTTP(S), including configuration profiles and Firmware updates, and Real-time network monitoring.
Configuration scripts for managing multiple devices simultaneously.
---
The most comprehensive Testbed for TSN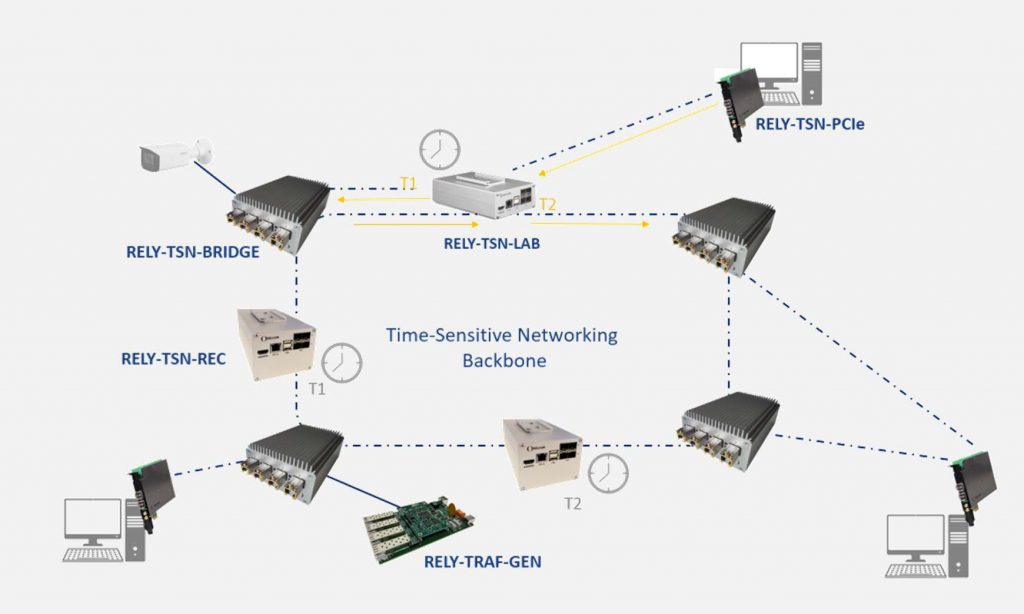 Network backbone:
RELY-TSN-BRIDGE: Time-Sensitive Networking 4-port Switch • Supports IEEE 802.1AS, IEEE 802.1Qbv, IEEE 802.1Qav, IEEE 802.1CB, IEEE 802.1Qbu*, IEEE 802.1Qci** Coming in 2022: 12 port RELY-TSN-BRIDGE with: 4x 10G SFP+ ports + 8x 1G copper ports.
Endpoint dispositivos:
RELY-TSN-PCIe: Time-Sensitive Networking Bridge PCIe NIC • Includes an internal 4-port TSN switch with support for: IEEE 802.1AS, IEEE 802.1Qbv, IEEE 802.1Qav, 802.1CB, IEEE 802.1Qbu*, IEEE 802.1Qci** • Based on i210 Intel chip, with support for IEEE 802.1Qbv, IEEE 802.1Qav and IEEE 802.1AS. • Supplied with an ISO image for COTS computers (21.1 version). RELY-TRAF-GEN: Traffic generator • Configurable parameters: source/destination MAC, EtherType, VLAN ID, PCP, etc. • Up-to 3Gbps real throughput.
Testing tools:
RELY-TSN-LAB: Time-Sensitive Networking Testing Tool • Performs error injection, latency and bandwidth measurement, traffic filering and hardware timestamping based on the IEEE 802.1AS network time reference. RELY-TSN-REC: Time-Sensitive Networking Traffic Recorder • Simultaneous read/write data operation supported from/to an Industrial grade high capacity SSD internal disk. • Remote access to local storage; standard file format (PCAP) compatible with Wireshark. • Traffic hardware timestamping based on IEEE 802.1AS synchronization. • Advanced triggering and filrering capabilities.
*from ver.21 onwards; **from ver.22 onwards.